Top 5 Reasons to Hire Contracted Sales & Marketing Services
As a fabricator of HVAC duct, you've most likely invested in coil lines, plasma tables, duct formers, press brakes, and maybe even a spiral machine, along with training a skilled and efficient team that can produce the quality product your company is known for.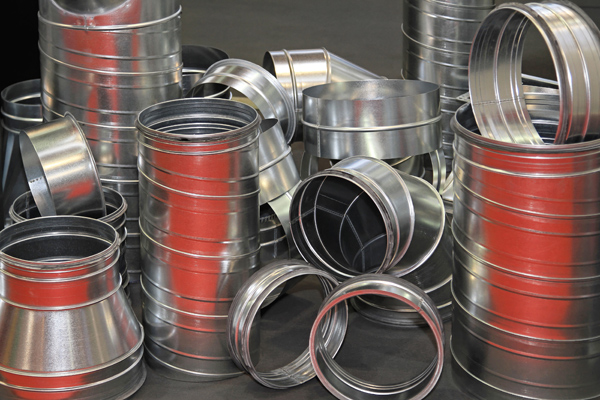 You may have in-house shipping or offer related services like CAD, shop drawings, HVAC estimating and take offs, or data entry automation. Probably, the further your company strays outside of its core mission and competencies, the less expertise it has. Simply put, it's impossible to be the best at everything.
You know this instinctively, so it's a good bet you already hire a number of external services such as: computer and IT services, accounting and payroll, and hiring and HR, rather than staffing up to handle them in house. Often the right answer is to bring in outside expertise that allows your team to focus on what they do best, rather than wasting time on jobs your team was never meant to do.
More than likely, sales and marketing fits directly into this category.
Word of mouth and referrals from satisfied customers will only get you so far. When natural growth reaches its limits, it's time to call in the seasoned experts. Untapped opportunities in your market can quickly help you elevate your business to the next level by significantly increasing your sales.
5. Sales Skills Over Technical Knowledge
When it comes to sales in the HVAC duct fabrication industry, you'll often find in-house sales efforts led by people who have the industry experience and technical knowledge in the actual fabrication and installation of projects. They've come up through the ranks and they know what they're talking about in terms of duct fabrication, materials, and installation processes. Unfortunately, sales and marketing skills were usually not a core part of their training.  Think of it this way— marketing at Mercedes Benz is not typically handled by their top engineers and mechanics. That job is outsourced to Omnicom Group, a global marketing and communications firm that was designed to do nothing but sales and marketing in a specific industry.
Without disrespecting the knowledge, contacts, and hard-won success of in-house sales, outside sales teams can bring a fresh perspective, skills in making connections, strengthening relationships, and calling potential clients to action. A contracted sales team can help companies break out of existing networks to reach new markets.
It's not true that you need to sacrifice industry knowledge, as the right sales and marketing team will have demonstrated success in the HVAC duct industry and the ability to complement your current efforts.
4. Existing Network of Contacts
When you work with outsourced sales, you benefit from the extensive and evolving array of contacts developed by their sales and marketing team. At The Cincinnatus Group, we've been serving the HVAC industry for decades. Our expertise and our focus are in the field of HVAC ductwork, and when fabricators turn to us for assistance with sales and marketing, they benefit from our knowledge and contacts developed for many years.
You become a part of our industry ecosystem, including all the contacts and experience of The Cincinnatus Group. We know where the growth opportunities are, which projects work within budget levels that would be right for your services, and how to best match expectations and cultures so that your growth can be as frictionless as possible.
3. Leverage Data to Increase Sales and Revenue
In combat, every soldier has a certain view of the battlefield. Things look quite different to the man in the foxhole versus the fighter pilot overhead. But only the command center has the wide-ranging data and viewpoint of how the entire campaign is progressing.
When it comes to sales, in-house marketing efforts rarely make it beyond the foxhole.  At The Cincinnatus Group, we have the advantage not only of the high ground, but of seeing evolving data from our many contacts and networks, including duct fabricators, sheet metal contractors, owners and developers, and even HVAC wholesalers.  Our view is one of systematic ductwork materials management, giving us the unique experience and expertise. That makes us invaluable in terms of gaining insights from various data sets and viewpoints, all of which can be leveraged to your benefit.
2. A Complement to Your Existing Team
At The Cincinnatus Group, our goal is not to replace in-house expertise as much as complement and advance the sales strengths you already have. After all, existing customer relationships are the foundation on which your business has been built.
Our goal is to bring new eyes to your efforts in the marketplace and see how we can help you outshine your competition, win new contracts, and establish profitable new relationships. We believe we are called to solve, where others struggle. We can help you:
Save costs by developing or increasing in-house sales and marketing efforts.
Gain access to dedicated talent with years of experience in your specific target market.
Generate new leads, build and strengthen relationships, and even gain branding aid from industry experts.
Scalability and flexibility: Meet client needs and deadlines by changing approaches as needed for your business model.
Minimize the risks of personnel costs and ill-conceived campaigns.
1. Proven Results
Outsourced sales and marketing for HVAC duct fabricators is our job. At The Cincinnatus Group, our skill set is building relationships and nurturing the best and most appropriate leads. By working remote and not wasting time and energy "popping in unannounced" to "cold lead" businesses, we have more time to reach out across multiple channels to the right audience, presenting them with a compelling message that showcases your business in its best light, thus creating the new relationships you'll be counting on for years to come.
If you are an HVAC duct fabricator that's ready to grow and looking for a partner in outsourced sales and marketing, we can do more than help. The Cincinnatus Group is a proven resource for restarting your sales and refocusing your marketing. Call us at 878-295-8009 today.
Why Choose The Cincinnatus Group?
As your partner in success, The Cincinnatus Group helps your organization stand out in its marketplace, win more bids, save substantial costs, and build the knowledge and skills your team needs to continually meet new challenges effectively and profitably.
Our strong work ethic, accountability, and pursuit of excellence sets us apart from other contracted sales and marketing services, and our unique expertise and proprietary ductwork systems make us unique amongst our competitors.
At The Cincinnatus Group, our fabrication partners gain access to our unique experience and expertise in contracted sales and marketing.
Our assets help you navigate the ever-changing markets of the 21st century. To learn more, call The Cincinnatus Group at 878-295-8009, or visit our Contact Us page today. We are looking forward to the opportunity to help grow your business.