Metal Prices in the HVAC Duct Market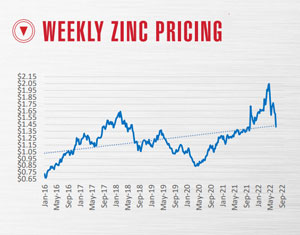 While inflation makes the news, some prices in the HVAC market have been declining.
Pricing continues to decline on the sheet metal side. We are getting closer and closer to the $1.00/lb. mark for material. There is good news from the Zinc side of the market, with four consecutive weeks of decreases.
The steel market is returning to where it was before the war in Ukraine, according to industry executives. The big question now is not whether prices fall, but how fast and where the bottom might be. As of this writing, hot-rolled coil (HRC) has fallen below $1,000/ton, after rising to exceed $1800 in the summer of 2021.
At the start of 2022, many players in the HVAC market, from manufacturers to contractors, began to announce price increases. The reasons were pinned to a multitude of factors, including raw material costs, increased labor rates, fuel and transportation costs, and changes to processes. Now, halfway through the year, some of the inflationary forces are beginning to moderate.
Will costs for HVAC duct be falling any time soon? While metal prices are declining for the moment, and improving automation adds another layer of savings, many costs in the mix are either increasing or stubbornly refusing to moderate. We are seeing unprecedented global supply chain instability, material shortages, and continuously rising costs from suppliers, commodities, freight, logistics, and other inflationary impacts.
Perhaps the best we can say is that costs will not be rising as fast as we might have predicted at the beginning of the year.
New Construction Tools and Trends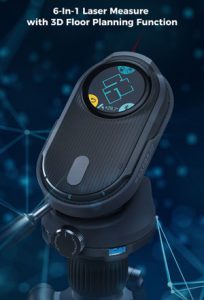 New technologies are changing how the construction industry is working and helping to improve both the ability to win new projects and to increase profit margins. Some of the construction tools and trends you should watch out for in 2022 and beyond include:
Crowd-funded solutions. People are no longer waiting for R&D departments to take new ideas from conception through field testing. When a new idea comes along, today's inventors are not uncommonly using crowdfunding services like Kickstarter, GoFundMe, and Indiegogo.
One interesting example is the MEASOR 3D – Future Laser Measure. The makers asked for a few thousand dollars to get started and, as of this writing, has raised almost $280K on Kickstarter. The MEASOR is advertised as: the very first laser measure that allows you to move freely in any space and auto snaps every edge of the room. Set up your measuring point with a few clicks. Achieve an auto-stitching multi-room 3D floorplan within seconds!
Check it out at https://rb.gy/xv6mla
The Internet of Things. We tend to think of IoT in terms of home automation. This includes complex heating and lighting systems, as well as setting alarms and home security controls, all connected by a central hub and remote-controlled by a mobile app. But IoT is making a difference in construction too.
The primary purpose of IoT on the job site is to create an environment where equipment, personnel, and materials are synced at the same point, which helps regulate and monitor all activity in real-time, ensuring adherence to the plan and the timetable, all while preventing risky situations and dangerous conflicts. This is accomplished through wearables, site mapping tools, and sensors placed both on equipment and in strategic site locations.
Robots and Drones. Drones are being used in construction to survey and take images on the site. On the other hand, robots are very useful in helping with multiple tasks such as installation of drywall, bricklaying, and pouring concrete. The benefits of using drones and robots include cost savings and reduced risk of injury.
With labor shortages in every industry, time and labor savings devices and new automated processes are sure to continue shoring up many job sites, including HVAC duct installations.
Duct Fabrication is TCG's Business
At TCG Duct, we can provide all or part of your HVAC fabrication needs. Your project is priced from a Material List or via a take off from prints you provide. Our team of engineers, fabricators and technicians are trained on the latest equipment and methods that enable us to meet your exacting standards.
Let TCG Duct be your partner in the HVAC Industry as an experienced, high-quality manufacturer of HVAC duct of all types. Our goal is to partner with our customers in ways that make the entire workflow from order to installation a seamless exercise in time and cost savings.
The Cincinnatus Group supplies traditional Rectangular Ductwork as well as Spiral Ductwork, Double Wall Spiral Duct , PCD Ductwork, and Industrial Welded Ductwork.
Why Choose The Cincinnatus Group?
As your partner, The Cincinnatus Group helps your organization stand out in its marketplace, win more bids, save substantial costs, and build the knowledge and skills your team needs to continually meet new challenges effectively and profitably.
Our strong work ethic, accountability, and pursuit of excellence sets us apart from other contracted sales and marketing services, and our unique expertise and proprietary ductwork systems make us unique amongst our competitors.
At The Cincinnatus Group, our fabrication partners gain access to our unique experience and expertise in contracted sales and marketing.
Our assets help you navigate the ever-changing markets of the 21st century.
To learn more about our Contracted Sales services or other services we provide: Contracted Estimating and Take Offs, CAD/BIM/Coordination Drawings, and Project Management Assistance, please call The Cincinnatus Group at 878-295-8009, or visit our Contact Us page today. We are looking forward to the opportunity to help grow your business.