Contracted Sales & Marketing Services
How to Reduce Sales Costs and Minimize your Risks
To be honest, sales and marketing are where many HVAC fabricators fall short or flat out fail. The reasons for this are numerous.
The sales model for many businesses is simply to chase new customers at all times by whatever means possible. Typically it's following up on leads without a conversation goal, finding publicly posted Request for Quotes (RFQs), cold calling, and networking. The mentality is, if you can find a project of any kind, get the quote. Your company may even have a "salesperson," or an entire marketing team dedicated to this failed approach.
You already know the pain and chaos this approach can deliver. You end up talking to potential customers who are not the right fit. Worse, you end up working on projects that you should never have bid on versus putting the time and effort into the right projects based on your core competencies and expertise in the industry.
Simply put, there is no crafted, well thought out plan. You're just chasing work for the sake of finding something anywhere. There's been zero effort made to identify the correct market that is the best fit for your core services. The channels to best reach your market are currently unknown, and for those who do not know their audience, branding and value statements are often sorely out-of-date and out-of-touch.
You may even have a war going on between your Sales and Marketing personnel if you currently have a sales team. Instead of one unified and concrete approach, where everyone has a common goal, you just have people playing the blame game, threatening instead of improving your bottom line.
Contracted Sales Takes Responsibility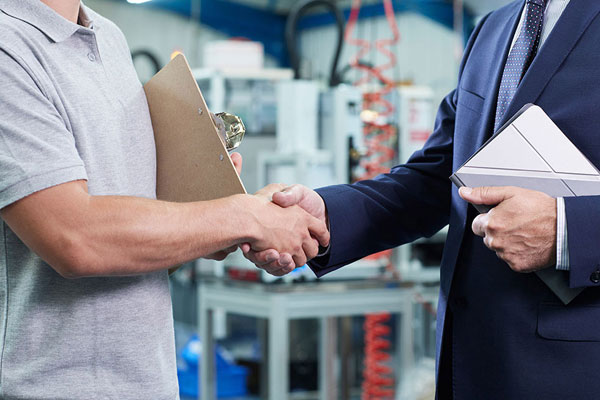 What's unique and different about hiring an external remote team for contracted sales and marketing services? Responsibility for one. At The Cincinnatus Group, we cannot be passing the buck if you are relying on us to bring in new customers and a higher volume of work.
A dedicated Sales and Marketing Team goes beyond that. As an HVAC duct fabricator, you have your work cut out for you (excuse the pun). Your company's core competency is ductwork fabrication, along with delivering a high-quality product on time at an affordable price.
At The Cincinnatus Group, our skill set is building relationships and nurturing the best and most appropriate leads. By working remote and not wasting time and energy "popping unannounced" into "cold lead" businesses, we have more time to reach out across multiple channels to the right audience, presenting them with a compelling message that showcases your business in its best light, thus creating the new relationships you'll be counting on for years to come.
We have a strong, proven plan, along with concrete goals, metrics, and analytics. We have big-picture objectives with measurable, tactical wins along the way. At The Cincinnatus Group, marketing and sales professionals work hand-in-hand, every day, to deliver you results.
Value of Customer Acquisition
A job is a job, but the right customer delivers a lifetime of value. When your company is limited to chasing down jobs, a great deal of your sales and marketing budget is potentially wasted. Ideally, that new customer will be one that needs a reliable partner in supplying their HVAC duct needs for years.
Customer lifetime value (CLV) is the total worth a customer brings to your business over the lifetime of the relationship.  CLV is an important measure, because it costs less to keep and nurture a good customer than it does to chase and acquire a new one.
Keeping existing customers in your sales and marketing outreach is so important, it can even drive business growth.
At The Cincinnatus Group, we not only help you find the right customers and develop relationships, we can also work with your in-house sales team to hone in on their phone skills in the latest value messaging, sales, and marketing techniques to further drive growth. 
The Benefits of Outsourcing
The benefits of outsourcing are clear.
Save costs by developing or increasing in-house sales and marketing efforts.
Gain access to dedicated talent with years of experience in your specific target market.
Lead generation, relationship building, and even branding aid from industry experts.
Scalability and flexibility by meeting needs as well as changing approaches as needed.
Minimize the risks of personnel costs and ill-conceived campaigns.
Why Choose The Cincinnatus Group?
As your partner in success, The Cincinnatus Group helps your organization stand out in its marketplace, win more bids, save substantial costs, and build the knowledge and skills your team needs to continually meet new challenges effectively and profitably.
Our strong work ethic, accountability, and pursuit of excellence sets us apart from other contracted sales and marketing services, and our unique expertise and proprietary ductwork systems make us unique amongst our competitors.
At The Cincinnatus Group, we like to say that we are "called to solve, where others struggle." Our fabrication partners gain access to our unique experience and expertise in contracted sales and marketing.
Our assets help you navigate the ever-changing markets of the 21st century. To learn more, call The Cincinnatus Group at 878-295-8009, or visit our Contact Us page today. We are looking forward to the opportunity to help grow your business.