Eliminating the Cost of Failure for Everyone
Is it truly possible to have zero defects in any manufacturing operation? Can production be so well organized as to produce flawless results?  To paraphrase the poet Robert Browning, "a man's reach should exceed his grasp, or what's [perfection] for?"
Zero defects is a production philosophy focused on continuously identifying flaws in systems that cause non-conformance errors.
It's about recognizing that no production error is acceptable when it affects you personally, so why should you allow any defects to make it off the production floor and into the hands of your customers?  In your personal life:
If it doesn't fit, you take it back.
If it's the wrong item, you take it back.
If it arrives too late and is no longer needed…
In each of these cases, frustration and dissatisfaction precede the practical steps of solving the problem. Indeed, whether the problem was solved or not, you come away with a bad feeling about the transaction.
On the other hand, receiving what you need, when you need it, along with good customer service and high-quality workmanship, always makes your day. But it's more than feelings. A zero-defects approach makes the project go faster, with less trouble shooting, less aggravation, and more profit all down the line.
In the world of HVAC duct, zero defects can lead to longer equipment lifespan, lower energy costs, and less frequent maintenance.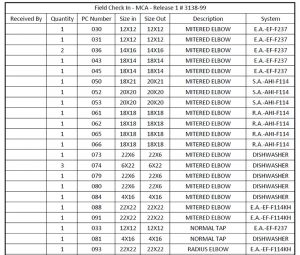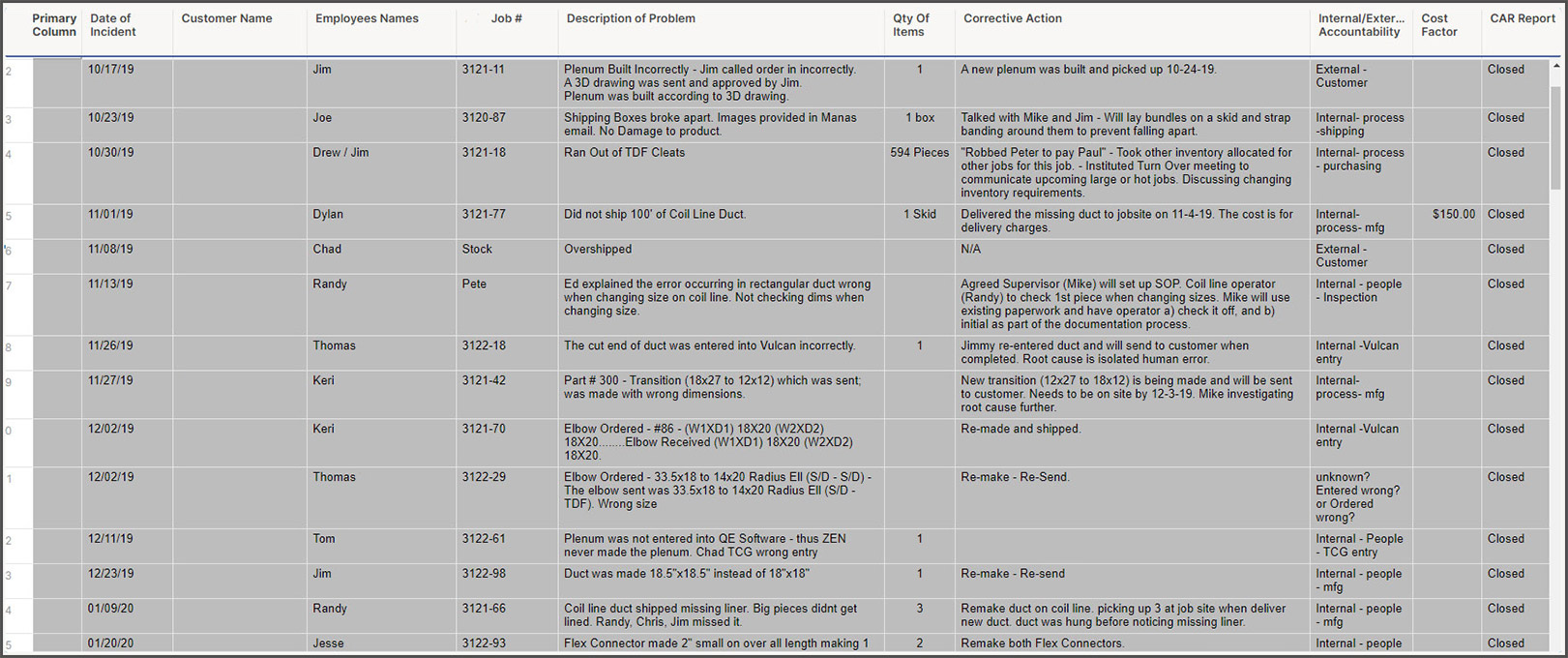 The TCG Way to Zero Defects
At The Cincinnatus Group, we've developed our own zero defect methodologies, a series of checks that start in estimating, flow through computer aided design, and go from coil line data entry and Vulcan plasma tables all the way to delivery.
Using Smartsheets, we keep a comprehensive non-conformance log so that no problem goes unchallenged. We work to understand the source of errors and revise workflows to address the issue. Making the same mistake over and over is not an option.
As soon as newly fabricated pieces come off the coil line, there is a quality check in the middle of the shop, with a QA foreman trained to make sure production is on track.
Finally, there is a quality, quantity, and accuracy check in the shipping department. The same Field Check In table is used to check shipments leaving our facilities and arriving on site. This double-check using the same instrument helps identify the smallest variances quickly.
How the TCG Way Benefits Our Customers
Our customers benefit from:
Elimination of field measuring and field layout costs.
Optimized field labor (your least experienced crew can handle the job).
Your PM, Superintendent, or Foreman gain time to manage additional projects.
Delivers real cost savings between 25% and 35%.
We take tedious and expensive onsite work like FMSL and deal with it in 3D. Using our advanced Coordination Drawing and Shop Drawing capability, we build out the entire duct installation in a highly precise virtual model.
When duct arrives on site everything is numbered, like a perfectly engineered puzzle piece. But unlike puzzles, we clearly number where everything goes!
Because our coordination and building information models are so precise, it means up to 15% lower fabrication costs for duct over the initial bid price. We optimize the number of standard lengths of duct and minimize the total number of joints and fittings.
Duct Fabrication is TCG's Business
At TCG Duct, we can provide all or part of your HVAC fabrication needs. Your project is priced from a Material List or via a take off from prints you provide. Our team of engineers, fabricators and technicians are trained on the latest equipment and methods that enable us to meet your exacting standards.
Let TCG Duct be your partner in the HVAC Industry as an experienced, high-quality manufacturer of HVAC duct of all types. Our goal is to partner with our customers in ways that make the entire workflow from order to installation a seamless exercise in time and cost savings.
The Cincinnatus Group supplies traditional Rectangular Ductwork as well as Spiral Ductwork, Double Wall Spiral Duct , PCD Ductwork, and Industrial Welded Ductwork.
Why Choose The Cincinnatus Group?
As your partner, The Cincinnatus Group helps your organization stand out in its marketplace, win more bids, save substantial costs, and build the knowledge and skills your team needs to continually meet new challenges effectively and profitably.
Our strong work ethic, accountability, and pursuit of excellence sets us apart from other contracted sales and marketing services, and our unique expertise and proprietary ductwork systems make us unique amongst our competitors.
At The Cincinnatus Group, our fabrication partners gain access to our unique experience and expertise in contracted sales and marketing.
Our assets help you navigate the ever-changing markets of the 21st century.
To learn more about our Contracted Sales services or other services we provide: Contracted Estimating and Take Offs, CAD/BIM/Coordination Drawings, and Project Management Assistance, please call The Cincinnatus Group at 878-295-8009, or visit our Contact Us page today. We are looking forward to the opportunity to help grow your business.