Welded Ductwork and Specialty Duct
From Grease Duct to Industrial Welded Ductwork
Most duct fabricators can deliver on the basics of rectangular and spiral duct. When it comes to heavy duty, welded ductwork and specialty pieces made of galvanized, mild steel, cold roll, stainless steel, aluminum, and more, owners, architects, and project managers turn to experienced duct fabricators like TCG Duct.
In addition to standard HVAC ductwork and fittings, TCG Duct produces:
Heavy gauge welded ductwork
Welded roof curbs and exhaust ductwork
Grease duct
Stainless
Aluminum
You can count on TCG to meet compliance standards too. In North America, grease ducts must be manufactured in compliance with National Fire Protection Association (NFPA), standard 96, as well as all local building and fire codes. Whatever specifications are necessary for your project, TCG works with you to assure on time, on budget, and on spec performance.
Benefits of Stainless Steel Ductwork
Stainless steel makes an excellent choice for ductwork from several viewpoints. While it is more expensive than galvanized or aluminum, it is increasingly requested by engineers for its unique advantages.
Stainless steel boasts extreme durability and corrosion resistance.
Greater strength than aluminum with high abrasion resistance.
Stainless resists condensation and moisture, giving less opportunity for mold and mildew and resulting in healthier buildings.
Useful for both exterior and interior duct configurations.
Stainless steel is 100% recyclable.
In situations where HVAC systems must move high volumes of conditioned air, the rigidity and long life of stainless-steel duct make it the superior choice. Stainless is also essential in industrial situations where oil and other fine mists are being drawn out of the air. Finally, the durability of stainless means the HVAC ductwork lasts longer without replacement, lowering lifetime building costs.
Interested in learning more about The Cincinnatus Group and our capabilities in stainless steel and specialty metals?  Give us a call at 878-295-8009, or visit our Contact Us page
Update on Steel Prices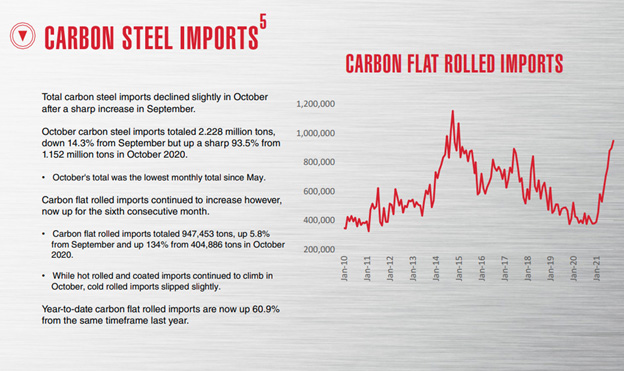 Last month we reported that hot-rolled steel prices showed a decline for the first time in over a year.
The change was small, but steel users seem to think a decline in steel prices is near, with 80% of executives believing hot-rolled steel prices have peaked and that cold-rolled and coated products have achieved flat or declining prices.
We agreed. On the structural side, we have experienced a small pricing decrease, the first since Aug. 2020. The demand is lowering, scrap is lowering, pressure from imports and a consumer base that has had enough price gouging are all leading to lower pricing.
See the Carbon Steel Imports graph accompanying this article. The US has more than doubled imports since Feb 2020.
Once the steel pricing went sky high, US manufacturers put in orders for imported steel once they saw that this market was going to last a long time. These orders are now being received, at a much lower price than US produced steel.
So, the competition is back (even with the tariffs, the imported steel is 20-30% less than current domestic), which will put pressure on domestic steel producers to lower costs. The domestic mills want that business that is now going to the international market due to low cost.
At TCG we believe these competitive pressues are sure to deliver a cost reduction soon.
Duct Fabrication is TCG's Business
At TCG Duct, we can provide all or part of your HVAC fabrication needs. Your project is priced from a Material List or via a take off from prints you provide. Our team of engineers, fabricators and technicians are trained on the latest equipment and methods that enable us to meet your exacting standards.
Let TCG Duct be your partner in the HVAC Industry as an experienced, high-quality manufacturer of HVAC duct of all types. Our goal is to partner with our customers in ways that make the entire workflow from order to installation a seamless exercise in time and cost savings.
The Cincinnatus Group supplies traditional Rectangular Ductwork as well as Spiral Ductwork, Double Wall Spiral Duct , PCD Ductwork, and Industrial Welded Ductwork.
Why Choose The Cincinnatus Group?
As your partner, The Cincinnatus Group helps your organization stand out in its marketplace, win more bids, save substantial costs, and build the knowledge and skills your team needs to continually meet new challenges effectively and profitably.
Our strong work ethic, accountability, and pursuit of excellence sets us apart from other contracted sales and marketing services, and our unique expertise and proprietary ductwork systems make us unique amongst our competitors.
At The Cincinnatus Group, our fabrication partners gain access to our unique experience and expertise in contracted sales and marketing.
Our assets help you navigate the ever-changing markets of the 21st century.
To learn more about our Contracted Sales services or other services we provide: Contracted Estimating and Take Offs, CAD/BIM/Coordination Drawings, and Project Management Assistance, please call The Cincinnatus Group at 878-295-8009, or visit our Contact Us page today. We are looking forward to the opportunity to help grow your business.