Trucking, Material, and Labor Prices Surge
Trucking
In the fall of 2021, hot rolled steel prices appeared to be moderating.
While this looked like a good sign, fast-forward a few months and inflation strikes back. Today, the HVAC industry is dealing with cost rises in almost every area, including material prices, labor, trucking, refrigerant, and more.
The reasons are both industry specific and general inflationary forces in the economy.  To start, there's no need to look further than transportation costs.
According to Freightwaves.com, "Since Nov. 1, the average retail price of diesel fuel as reported by the DOE has risen nearly 40%." and "Truckload spot rates continue to trend higher in 2021, averaging $3.18/mile over the past two months compared to $2.96/mile (7.4%) from November to December of last year."
When fuel costs go up, it affects delivery of equipment, duct, and even the jobs that contractors will bid on.
Material Prices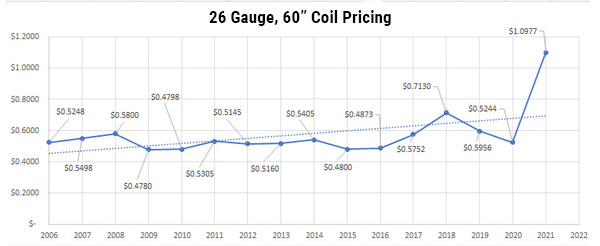 At TCG, we conducted our own internal price study on 26 gauge, 60" wide coil pricing from 2006 – 2021. Our evaluation shows that coming into 2021, the price steadily increased from $0.7575/lb. up to $1.3365/lb. Pricing in the last 4-months has ranged between $1.45 – $1.50/lb.
While the recent price spike is alarming, in checking with TCG's vendors, they forecast prices to moderate through the first quarter of 2022, dropping back into the $1.30 range.
More coil imports will be arriving throughout the year hopefully bringing down the domestic coil pricing with it as well. Some vendors think we may see $1.00/lb. pricing by the end of 2022, but prices below $1.00/lb. may be gone forever at this point.
Labor
While demand for HVAC work continues to increase, the long-standing labor shortage in construction adds its own inflationary pressure to many projects.
With an aging workforce, qualified HVAC labor is hard to find. The shortage of skilled workers is forcing many employers to boost salaries as a means of staying relevant in the marketplace, placing labor in the driver's seat.
According to the U.S. Bureau of Labor Statistics, mechanic and installer jobs are expected to grow 15-percent nationwide by 2026. That means that regardless of mentorship programs and trade school promotions of the trades, labor will continue to be a core cost factor in completing new projects.
That said, the one development which may counter rising labor costs is technology and the developing world of smart systems, jobsite robots, and building information modeling. According to an article in SNIPS "The short answer of where robotics fit in is just about every aspect of jobs that are labor intensive."
These innovations reduce the need for onsite labor and make the most of the skilled individuals who remain, enabling them to handle higher level tasks, complete jobs more quickly, and manage multiple jobs simultaneously.
HVAC Costs Continue to Rise
Factors ranging from material costs and transportation to shipping bottlenecks and labor shortages have conspired to create a situation where players in the construction industry, including HVAC fabrication and installation, must bump pricing several times a year, if not quarterly.
Falling prices in any one area will only modestly affect the inflationary pressures driving HVAC cost decisions.
While the current environment certainly presents challenges, the U.S, HVAC systems market is still projected to grow at a compound annual growth rate of 5.9% over the next seven years, reaching 197.5 billion dollars in value by 2028.
Duct Fabrication is TCG's Business
At TCG Duct, we can provide all or part of your HVAC fabrication needs. Your project is priced from a Material List or via a take off from prints you provide. Our team of engineers, fabricators and technicians are trained on the latest equipment and methods that enable us to meet your exacting standards.
Let TCG Duct be your partner in the HVAC Industry as an experienced, high-quality manufacturer of HVAC duct of all types. Our goal is to partner with our customers in ways that make the entire workflow from order to installation a seamless exercise in time and cost savings.
The Cincinnatus Group supplies traditional Rectangular Ductwork as well as Spiral Ductwork, Double Wall Spiral Duct , PCD Ductwork, and Industrial Welded Ductwork.
Why Choose The Cincinnatus Group?
As your partner, The Cincinnatus Group helps your organization stand out in its marketplace, win more bids, save substantial costs, and build the knowledge and skills your team needs to continually meet new challenges effectively and profitably.
Our strong work ethic, accountability, and pursuit of excellence sets us apart from other contracted sales and marketing services, and our unique expertise and proprietary ductwork systems make us unique amongst our competitors.
At The Cincinnatus Group, our fabrication partners gain access to our unique experience and expertise in contracted sales and marketing.
Our assets help you navigate the ever-changing markets of the 21st century.
To learn more about our Contracted Sales services or other services we provide: Contracted Estimating and Take Offs, CAD/BIM/Coordination Drawings, and Project Management Assistance, please call The Cincinnatus Group at 878-295-8009, or visit our Contact Us page today. We are looking forward to the opportunity to help grow your business.