Improving HVAC Duct Fabrication
When CAM Production Wastes Time
HVAC duct fabrication has advanced to new levels of efficiency and cost-savings. Computer Aided Manufacturing (CAM) allows software to direct modern coil lines in the automated cutting, lining, and bending of ductwork from sheet metal coils.

What could be more efficient? Sadly, for many duct fabrication companies, the process continues to be hindered by manual operations prone to human error.
When manual data entry of duct orders is necessary, significant time and cost has already been lost before the coil line can begin production.
On average, it can take 3 minutes to enter the specifications for a single piece of duct. Multiply that by 800 or more pieces for a total order and you've lost 2,400 minutes – an entire 40-hour work week used to type specifications into a computer program. That's personnel time, payroll, and worst of all, multiple opportunities for error introduction that will cost even more down the line.
No matter how experienced, no data entry person can work efficiently, perfectly entering every dimension hour after hour, day after day, week upon week. On top of an already inefficient process, a simple transposition of numbers will cause waste (if caught early in quality control) or delays on-site during installation, which then wastes everyone's time and dollars.
At The Cincinnatus Group, we work with duct fabricators to close the gap between high-tech building information modeling (BIM) and computer aided manufacture (CAM). Our duct models, built with 3D precision using Trimble EC-CAD software (formerly EastCoast CAD) allow for direct download of specifications from drafting software to the production line.
This saves tens of hours of manual data entry on large orders, eliminates human error, and allows for higher throughput of production systems.
To learn more, call The Cincinnatus Group at 878-295-8009, or visit our Contact Us page today.
Experienced Fabricators Start with CAD/CAM Services from The Cincinnatus Group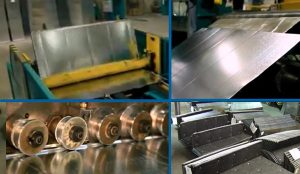 From basic shop drawings to complex 3D BIM models with coordination and clash resolution, the best results are about more than software.
The Cincinnatus Group offers advanced CAD services for Sheet Metal Contractors using our own dedicated in-house teams. Our CAD Techs are both highly experienced and trained in The Cincinnatus Group's own design efficiency and error reduction protocols.
Our advanced estimating process handles everything in one step, simplifying the experience and saving you on costs.
BIM/Coordination drawings from the Cincinnatus Group ensure accuracy and efficiency before installation of HVAC ductwork and electrical conduits.
An extensive database of suppliers and the capabilities, prices, and core competencies of each to ensure the success of your next project.
Optimized program billing that improves Accounts Payable accuracy and efficiency.
The Cincinnatus Group puts our values first. Our strong work ethic, accountability, and attention to detail set us apart from other HVAC ductwork designers, and our unique expertise and proprietary ductwork estimating systems make us unique among our competitors.
Called to Solve Where Others Struggle
At The Cincinnatus Group, we like to say that we are "called to solve, where others struggle." Our fabrication partners gain access to our unique experience and expertise, proprietary ductwork material systems, and our construction technology integration experts.
Our assets help you navigate the ever-changing markets of the 21st century. To learn more, call The Cincinnatus Group at 878-295-8009, or visit our Contact Us page today.