Sourcing Spiral Duct for Commercial Projects
Reliable, Affordable, Quick Turnaround
Supply chain challenges continue to hamper the HVAC and commercial construction markets, even as the demand for new projects increases.
Many contractors and project managers are turning to their regular suppliers only to hear of more delays, more shortages, and price increases for anything that is available.
That's why more and more people are turning to The Cincinnatus Group. We have a reputation for delivering a comprehensive array of ductwork and accessories to some of the largest commercial projects in the US, including airports, hospitals, warehouses, retail complexes, office buildings, and more.
With our focus on systematic ductwork sales & materials management, The Cincinnatus Group is your reliable and affordable source for a wide variety of ductwork, including modern spiral duct.
Spiral Duct is the Better Option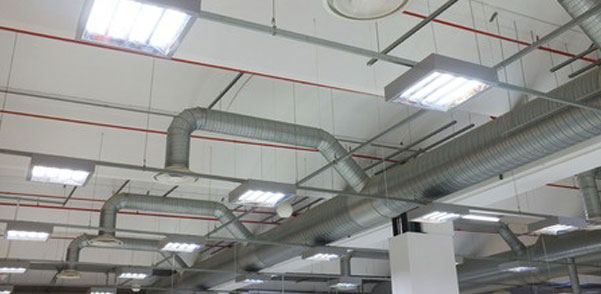 The HVAC world has seen a major shift away from traditional rectangular duct in recent years. Today, spiral duct, flat oval duct, and round duct are seen as better options pretty much across the board.
One of the major reasons for this is that these types of ducts look great, especially compared to rectangular duct.
On top of the aesthetic advantages (spiral duct can even remain exposed in certain spaces), there are a number of functional advantages that save projects time and money.
To learn more, call The Cincinnatus Group at 877-600-0221 or visit our Contact Us page today.
Here are few reasons why The Cincinnatus Group recommends spiral duct for some of our largest and forward-looking projects.
Less Noise
In rectangular ducts, most turning points in the system need to be given sharp angles, causing the airflow to crash against the duct wall, resulting in a constant hum that can be extremely annoying.
With spiral, oval, and round duct, it's much easier to install the ductwork throughout the facility using gentle curves that reduce reverberation (and the hum that is often associated with older HVAC systems).
Another factor that contributes to noise issues in traditional duct is the pressure differential. With spiral, oval, and round duct, the pressure throughout the system can be held constant.
For projects where prevention of noise pollution is an issue, the sound reduction qualities of spiral duct is a huge advantage over rectangular systems.
Less Maintenance
Because spiral, oval, and round duct have no angular corners and a smaller surface area than rectangular duct, they stay cleaner and are easier to clean. Because air moves through these types of duct with greater efficiency, there are fewer issues that cause damage and require repairs.
Project owners appreciate these cost savings, as they are significant over time.
Less Leakage
Rectangular duct has much higher leakage than spiral, oval, or round duct. For the longest time, it was difficult finding traditional HVAC systems that performed better than 10% leakage, although some high-end rectangular systems can achieve a reduced leakage throughout the system between 3% and 4%.
However, with spiral, round, and oval duct, it's rare to find any HVAC system leaking more than 1% to2%. That makes these systems approximately 50% more efficient than even the most expensive rectangular duct systems.
Because inconsistent pressure and leakages are one of the biggest drivers of the overall cost of using any HVAC system, this can significantly lower costs for the project over time.
Lower Costs
From start to finish, the cost of spiral, oval, and round systems beats rectangular systems, starting with the sheet metal that's used to build them.
Spiral systems require less sheet metal because the surface area in comparable systems will always be smaller. This also makes it faster to install — everything is lighter, and less labor and equipment is needed to get the job done.
Also, depending on the aesthetic of the building, you might not need to hide the ductwork install at all, which saves even more time and money.
Why Choose The Cincinnatus Group?
As your partner, The Cincinnatus Group helps your organization stand out in its marketplace, win more bids, save substantial costs, and build the knowledge and skills your team needs to continually meet new challenges effectively and profitably.
Our strong work ethic, accountability, and pursuit of excellence sets us apart from other ductwork suppliers.
To learn more about our many services, including our wide range of HVAC ductwork and accessories. Please call The Cincinnatus Group at 877-600-0221, or visit our Contact Us page.
Become a Fabricator Partner
If you're a fabricator and are interested in growing your customer base, reach out to us to discuss being a fabricator partner.
Call The Cincinnatus Group at 877-600-0221 or visit our Contact Us page today.