The Construction Industry and COVID-19
The COVID-19 pandemic has created unprecedented challenges, causing world economies and international supply chains to struggle in the face of uncertainty.
The construction and HVAC industries are dealing with their own set of challenges. These include fewer starts, supply chain disruption, and economic uncertainty. Ever since the U.S. reopened following the March lockdowns, the construction industry has struggled to return to normal. Progress remains slow, with a 78% reduction in nonresidential starts in the Pittsburgh area, for example.
Though social distancing and mask-wearing have allowed many projects to resume at reduced labor capacity, the industry is struggling to regain its footing.
Uncertainty around the duration of the pandemic makes it hard to anticipate how a recovery will unfold. In this environment, getting equipment and supplies can be a challenge. Component manufacturing has been disrupted in facilities across China, Europe, Japan, and the U.S., resulting in a production slowdown of HVAC equipment.
Here's a quick look at how construction and HVAC industries are weathering COVID-19.
Construction Setbacks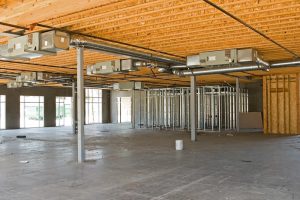 Even though construction activities have been allowed to resume in most parts of the country, many projects are operating at reduced capacity, with fewer employees.
Fewer workers slow project progress, as do disrupted supply chains, shifting market trends, and fluctuating prices for construction materials.
Construction of nonresidential buildings and structures such as retail stores, movie theaters, and hotels have been put on hold or shelved as uncertainty about the duration of the pandemic calls into question the viability of commercial space during a pandemic.
It's an environment in which construction firms find themselves bidding on fewer projects, and those that specialize in specific types of projects must diversify in order to take on new work. In addition, equity partners and lenders have been less likely to underwrite new construction due to the uncertainty caused by both COVID-19 and the presidential election.
Looking Forward
Despite the loss of jobs and productivity, the industry is adapting and changing in the face of these challenges.
With the reduction in personal meetings due to the pandemic, more industries are realizing the convenience of virtual meetings, ensuring communication between workers and supervisors in an age of social distancing.  For the same reason, more construction firms are recognizing the importance of cutting-edge Building Information Management (BIM) and CAD software to save onsite labor and cut costs through reduced errors.
Another way technology has aided the industry includes off-site and modular construction. Many projects now operating at a reduced capacity have moved some construction elements off-site to maintain social distancing while still meeting deadlines.
The old ways of doing things have certainly been disrupted.
In 2019, the global HVAC market size was valued at 130.5 billion and projected to have a Compound Annual Growth Rate (CAGR) of 6.1% between 2020 and 2027. In the long view, that demand is still there and is likely building behind the economic dam that is the COVD-19 slowdown.
For Fabricators, Contractors, Owners, and Wholesalers, the challenge is two-fold: how to survive through a year or more of disruption while planning for the flood of demand that is sure to come.
How We Can Help
At The Cincinnatus Group, we provide new horizons in ductwork materials management. That means we provide key services for everyone in the HVAC materials management loop, optimizing services to shave costs during the slowdown and automating processes to allow for fast ramp up when demand resumes.
We serve everyone in the HVAC materials industry, including Duct Fabricators, Sheet Metal Contractors, Owners & Developers, and HVAC Wholesalers.
Whether you are a duct fabricator in need of precision estimating, a sheet metal contractor seeking coordination drawings, a developer looking for help in duct sourcing/duct materials management, or a wholesaler ready to differentiate your services by adopting the latest cutting-edge techniques, we have a proven, highly focused solution for you.
Our Industry Services Include:
Why should you take advantage of our services? Our protocols and procedures, focused for each market segment, have been proven to save up to 35% over projects using traditional HVAC ductwork acquisition methods.
We can help you through this uncertain era with cost-saving methods, as well as prepare you for handling the surge in pent up demand that is sure to come.
With the proper planning and management through the help of The Cincinnatus Group, your firm can come out ahead of the pandemic with an edge over competition, stronger than before.
To learn more about how The Cincinnatus Group can reduce your firm's costs, call us at 1-878-295-8009, or send us a message on our Contact Us page.